In what seems like a sea of ugliness really (but quite refreshing nonetheless), this explosion of color and chaotic mix of all the flora and fauna of beaches, forests, gardens, islands and whatnot is exactly what we've been waiting for to balance everything out, if not to make us enjoy the hot season properly. Fashion wise.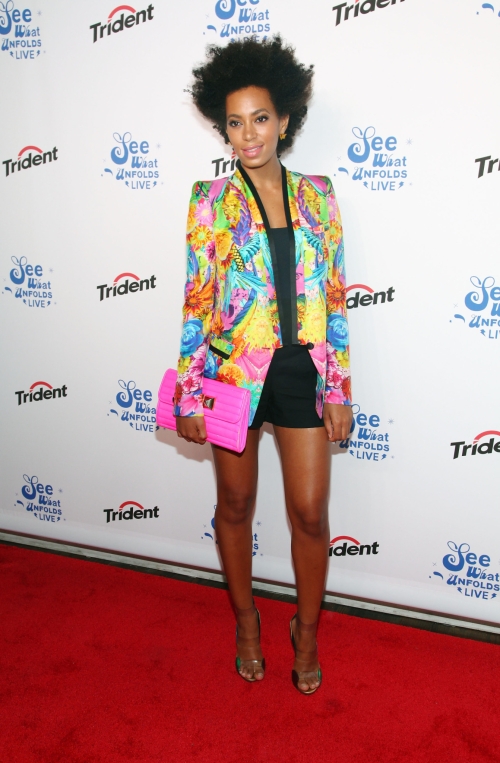 Although Hawaiian and tropical prints are often stereotyped as looking tacky or touristy, this spring/summer season offers a more glam and modern version of island fever that has emerged within the fashion world. These easy-to-wear tropical prints couldn't be more fab for warm spring and summer days, and have been seen walked down designer runway and red carpets in a range of vibrant colors: tangy tangerines, ocean blues, and electric pinks.
How To Wear them? You've basically got 3 options.
1. Wear the same tropical print from head to toe: a dress (which can be for office, beach, going out, casual, evening style – the sky's the limit), trouser and blazer suit, tops and shorts. You can even pile on tons on accessories and have fun with funky shoes and bags as well if it floats your boat. If not, keep these to a minimum by choosing basic pieces in nudes or plain pastels.
2. Wear ONE tropical print piece and pair it with a basic one if it's too much for you, yet you wanna give this wild trend a try. White pieces mixed with colored tropical ones look best. Summer'ish, rich, sophisticated. Pair a tropical print skirt with a simple white tee and a great necklace. Or don a tropical print top with a denim bottom: cutoffs, bermudas, skirts, jeans. For the really shy ones, there's still hope: bags, shoes, scarves around your neck or wrapped around your head in the wildest prints and colors ever.
3. If you're feeling bold and daring mix tropical prints with any other prints. Fruits, vegetables, florals, animal print – all these look fabulous against a tropical pattern. It's too much. It's chaotic. It's literally an explosion of all your senses, you're eyes get so busy not knowing which prints and colors are which – and this – is beyond fantastic. It oozes sophistication, chicness and a very, very, very holiday vibe.
Gotta have it or Make it stop?
Instagram - @JustPorsh
Facebook - JustPorsh
Twitter - @justporshh
HAVE A GOODNIGHT REST!
Ciao darlings!
xoxo
Portia
THANKS FOR VISITING MY BLOG.