I've never been one to care too much about beauty.
When I was younger, I didn't even bother with applying any cream on my body after a bath, I was that nonchalant.
I used to think, 'I'm no Kim K or Eva Longoria when it comes to beauty so why bother'
I just decided to dress well in order to make up for that lack.
lol
Well, until recently.
I traveled back home early last month for my grandma's burial and returned with rashes scattered all over my forehead.
Me in my usual way thought, 'after a few days, it will just go away'. But it didn't.
After one week, it had even increased, then I became worried.
Never been a fan of beauty products. Scared of what the cheap ones might do to my face.
And the ones I thought might work are quite expensive.
I turned to Google for help, and Lemon was the answer.
God had already given us all that we needed. Lemon, a fruit, very affordable and a natural solution to a lot of our beauty problems.
There are countless uses for Lemon. I can give you about 50 of them now, but I won't (ask google)
I'm just gonna share my experience with lemon.
So I headed to the market and bought some lemons.
There were different modes of applying the lemon juice on the face to clear dark spots.
1. Spraying it on : put lemon juice into an old spray bottle and add equal amount of water. Spray it on your skin
2. Rub a lemon rind over your skin.
3. Use as a facial mask. (A lot of mixtures here)
4. Cut lemon slices, squeeze juice into cotton ball. Apply to face and rinse off after 10-30 mins.
This is actually the mode of application I use, probably cos its the easiest.
I cut the lemon in half, and keep it refrigerated. I apply it most nights after washing my face with cold water and toilet soap. Been doing it for about a month now and I can proudly say that my face feels like a baby's skin! The rashes cleared in one week, and I'm hoping the dark spots would completely disappear.
The negative side to the use of lemon is that it lightens the skin, slowly but effectively.
Constant use over a period of time would give the face a lighter complexion. You would look funny if the face is much more lighter than your body.
My face used to be darker than the rest of my body, thanks to Nigerian Sun! But now its almost the same shade with the rest of my body.
So it would be advisable to take a break from the use of lemon on the face once you've achieved the clear skin you needed. Unless you you find a way of applying it on your entire body (If you do, please share!).
Now to my 2nd favorite and most recently discovered use of lemon.
To lighten dark lips.
I had never given much thought to what my lips looked like naked from lipsticks until recently. I just noticed that they were too dark for my complexion.
Dark lips are commonly caused by smoking, excess tea or coffee intake, sun exposure and improper maintenance.
I don't ever smoke, I wouldn't take hot tea to save my life, My mum banned coffee in my house so I would attribute my dark lips to sun exposure and improper maintenance.
There are also different ways to lighten dark lips which include use of honey as lip balm, increased intake of water and vegetables, moisturizing the lips, use of lemon juice to remove tan from lips etc.
I plan to implement most of these tips. I also made a 'solution' for use on my lips.
I squeezed lemon juice into a small container and mixed it with honey. I used a cotton bud to apply it on my lip as a lip balm.
The mixture can be preserved in the fridge for up to a week.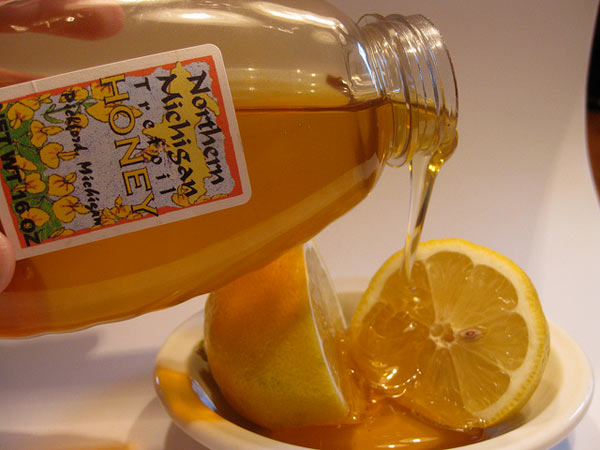 The lemon juice peels off the dark skin and the honey adds pink color to the lips. Leave on the lips for an hour before wiping off with soft cloth. This can be applied as many times as possible in a day.
I just started this yesterday, even got my siblings to join me in the experiment, lol.
Would keep you posted on the progress.
I might even do a
'before
and
after'
post... 'looking for my camera to take a pic of the
before
'
Till then!
Hope you find these tips helpful.
HAVE A GREAT WEEKEND!
Ciao darlings!
xoxo
Portia
THANKS FOR VISITING MY BLOG.